Want a free GOLD Ticket plus the flight over to Vegas?
Posted by Arni Bergsson on
SUPERNATURAL OFFICIAL CONVENTION
A SPECIAL SALUTE TO THE AMERICA'S LONGEST GENRE RUNNING SERIES CELEBRATING ITS 11TH AMAZING SEASON THANKS TO YOU!
LAS VEGAS, NV
Thu., Fri., Sat. & Sun.
March 10-13, 2016*


Here's An Overall Look At The Tour And What To Expect!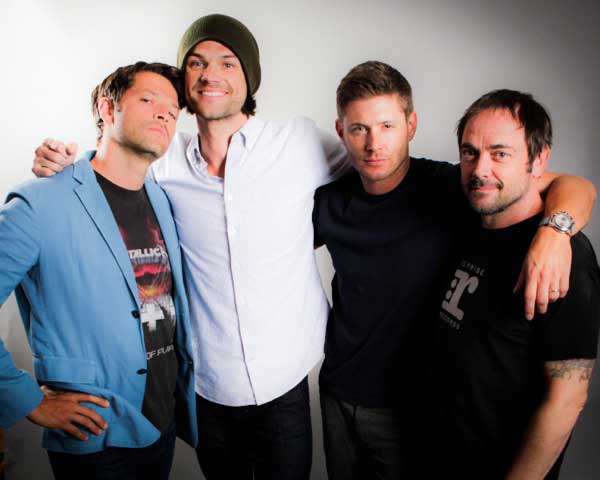 SEE JENSEN, JARED. MISHA, and MARK, TELEVISION'S HOTTEST STARS, RETURNING TO LAS VEGAS.THE LIVE ENTERTAINMENT CENTER OF THE WORLD!!!

Would you like to win a 

GOLD WEEKEND ADMISSION PACKAGE
These are the absolute most upscale best way to attend the entire convention and include the following benefits at The LAS VEGAS 2016 Creation Entertainment Official SUPERNATURAL CONVENTION!

Here's What You Get When You "Go Gold" In LAS VEGAS FOR THIS UNIQUELY SPECTACULAR EVENT:
1)

The absolute best reserved seats in the main theatre

where all our major guests appear and daytime events occur! This seat is yours come and go all 4 days and you can actually pick out your seat on our floor plan ticketing system! Great for photographers too!

2)

Complimentary in-person autographs

with great guests including

Jensen Ackles, Jared Padalecki, Mark Sheppard, Ruth Connell, Brock Kelly, Osric Chau and Colin Ford.

The value of these autographs, if bought separately, will be more than $400 so you can see what a great value the Gold Package is!

3)

First to get autographs

: we go row by row: you are in the front rows: you get the idea! THAT'S RIGHT: you get to our guests earlier than our other attendees: after all "going gold" does have its benefits!

4)

Complimentary admission to our THE "SATURDAY NIGHT SPECIAL" CONCERT starring

LOUDEN SWAIN

featuring lead singer Supernatural's own

ROB BENEDICT

and special SUPERNATURAL celebrity guest stars performing as well including

MARK SHEPPARD, MATT COHEN, RICHARD SPEIGHT, Jr., RUTH CONNELL and OSRIC CHAU.

You keep your same great seats you have for the day for this event as well! Performers are tentative and subject to change.

5)

Pre-Registration

: we get you set for the weekend before other patrons and give you first crack at the exclusive merchandise! Pre-registration generally takes place WEDNESDAY night and THURSDAY morning. Pre-registration is not a necessity, just a convenience. You can register anytime registration is open.

6)

The exclusive GOLD COCKTAIL PARTY

(which will now be THURSDAY NIGHT) featuring guest celebrities and a great place to hang and meet fellow fans. Hot DJ and dancing and a cash bar included! We also have our famed CENTERPIECE CONTEST here so prepare your Supernatural themed centerpiece and vie for a $200 gift certificate.

7)

Wristband access:

we have special color-coded wristbands and collectible lanyard credentials for GOLD Package Holders: once you get set you don't need to wait again!

8)

Complimentary Admission to our EXCLUSIVE TO GOLD SUNDAY SPECIAL SUPERSTAR PANEL (30 minutes) starring

JENSEN ACKLES AND JARED PADALECKI.

On top of their regular convention appearance we have J and J doing a more intimate special panel just for our Gold Weekend Patrons!

9)

Admission to our famous Karaoke Kings FRIDAY NIGHT Concert Party Night event!

If you haven't attended one of these get ready to LAUGH, SING AND ENJOY! Truly a night to remember, starring The Karaoke Kings Richard Speight, Jr. and Matt Cohen plus special guests INCLUDING ROB BENEDICT! Please note that front chairs are removed for this event, so it is not a seated affair which means that we do not have reserved seating for this.

10)

Admission to the vendors area

, of course

11)

The right to renew your same exact seat (or try to do better) for the following year's convention in LAS VEGAS, if applicable.
Worth $940 + flight?
Then Sign Up NOW! & don't forget to SHARE this!
The winner will be announced "Mars 5th" ! 


---
Share this post
---
---
---
42 comments